For Your Service and Repair Needs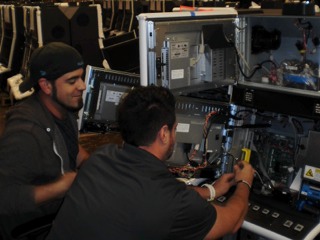 We have over 20 certified technicians ready to receive your call.  All of our calls are received by a live operator 24 hours a day, 7 days a week.  Our technicians are knowledgeable and equip with items needed to repair or service machines.
With our in house parts and repair department and extensive inventory of replacement parts and supplies, equipment down time kept to a minimal.  Our in-house Shop and Lab Departments repair and maintain all of our equipment in house so we do not have to send equipment to a third party for repair.
Need a Jukebox or would like to request music for your jukebox? Is easy, all you need to do is contact us letting us know what you would like on your box, and what items you would like removed.  Providing you with quality sound and equipment, we'll keep your clients toe tappin' and in your establishment.
With routine collections and maintenance of equipment, we make sure that we provide you with the top notch service so you can enjoy the profits gaming and amusements will bring to your business.